About This File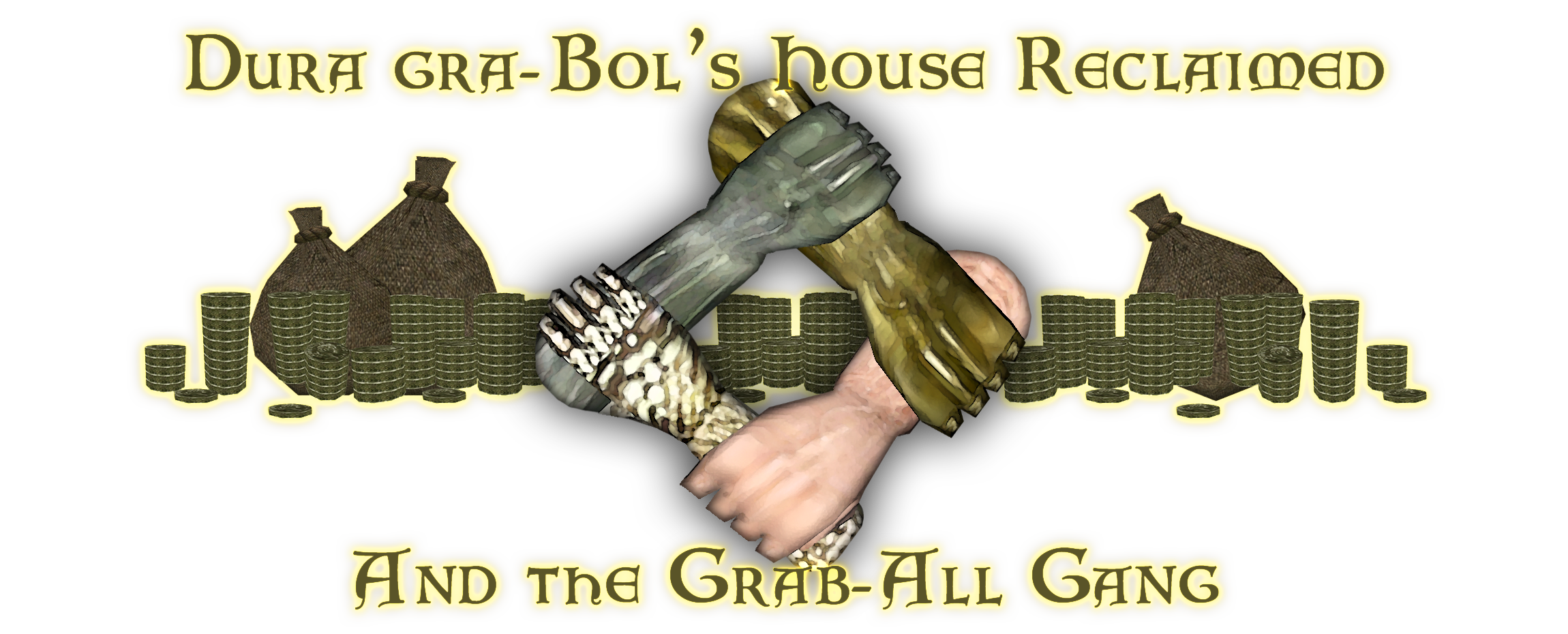 This mod started as a simple house mod and expanded into an entire smuggling faction questline - while still allowing you to choose the high road and be rewarded for killing Dura as instructed. Get to work with Larrius Varro again as he sticks his nose into more of Vvardenfell's dirty business. Or choose the profitable path of a smuggler and climb the ranks from a meager Amateur to the Boss. Earn dirty money. Or kill those dirty money-makers. Rent a house from the biggest druglord on Vvardenfell. Or legally purchase your new home and wipe the slate clean.



Adds a non-faction method of starting the Dura gra-Bol bounty quest: talk to Larrius Varro after completing his Bloodbath quest. He'll give a larger bounty (Fighters Guild takes a percentage) but no faction reputation

Adds option to spare Dura gra-Bol if you accept her deal

If you decide to kill Dura gra-Bol, you can purchase her house. It'll be renamed so you can wipe that criminal's name from your memory and your items won't be marked as stolen from the containers any longer. You'll also get a few extras in the house if you go this route like a "Realistic Repair"-ready anvil in your armory along with some housewarming gifts (mostly booze because, let's be honest, what else would you really want?).

Dura offers the player a business proposition to cover up her smuggling operations. Become the formal Head of Operations for a local smuggling gang and collect your weekly cut (assuming some corrupt official doesn't need to be paid off).

Rise in the ranks of a new smuggling faction. From an amatuer to a smuggling boss.

Complete illicit quests for Dura to earn bonuses. Earn a larger weekly cut of the profits by completing quests and climbing the criminal ladder.

Have the lease to Dura's house transferred into your name and assume residency.

The layout and features of Dura's house has been overhauled. Still not extravagant, but matches the exterior better and adds a basement for additional storage.

Clear the smugglers out of the sinkhole below your new home and maybe find some hidden secrets in your new cave. See if you can find the rat hole!

Customers in Balmora want more than just skooma and moon sugar; find some unique cursed items among the contraband. Including one which will take you somewhere unexpected...

Adds the sleepy fishing village of Bo-muul to a new island in the Bitter Coast which is more than it appears.

Depending on which side you take, either work with the smugglers living in Bo-muul or cleanse it entirely with another Bloodbath sponsored by Larrius Varro.

Get involved with political intrigue as the corruption of Hlaalu officials come into the light.

Acquire a magical belt which was unobtainable in the original game if you choose the right path.

Discover that Larrius Varro is a member of the religious Talos Cult. If you side with Dura, use that information against him!

Explore a new area of Arkngthand teeming with new types of Centurions standing between you and those profitable dwemer artifacts!

Fixes the dialogue entries which refer to Dura gra-Bol as a "he" (perhaps those commoners can be excused, it's a common mistake with orcs)

Lightweight, 100% vanilla mod.




To start the new questline, either get to the Fighters Guild stage with Eydis Fire-Eye where you're sent to kill Dura gra-Bol, or complete Larrius Varro's Bloodbath quest to get the bounty quest from him and then talk to Dura before you gut her. If you decide to side with Dura, just keep following that questline. If you decide to kill Dura after all, talk to Larrius Varro to get some more work.



---
What's New in Version
1.5
Released
Fixed dialogue filtering when asking Larrius Varro about Dura.